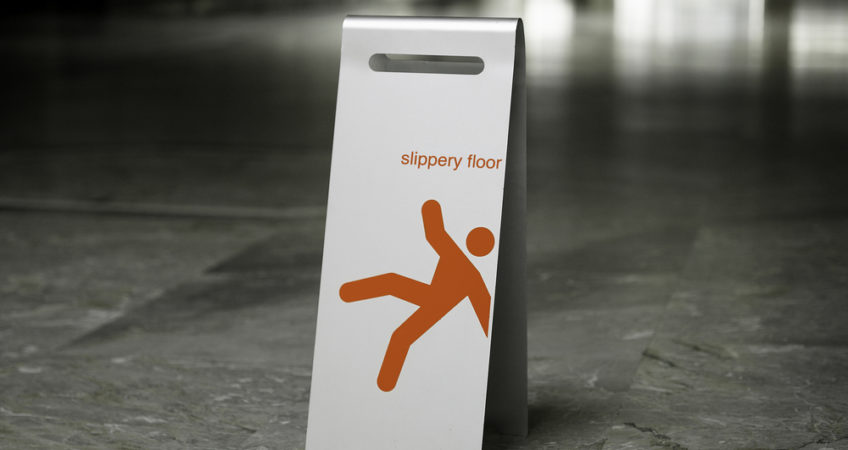 Slipping and falling have long been used as slapstick jokes. But these accidents are no laughing matter. Over a million Americans have been in the ER for slipping accidents, accounting for 12% of all fall accidents. These accidents can cause anything from sprains and fractures to traumatic brain injuries that can result in permanent disability or even worse, death. Aside from being a health hazard, slip and fall accidents are costly. In 2012, claims from these types of accidents cost a whopping $19 billion in compensation claims and hospital costs. They are also the leading cause of skipping work and actually account for 85% of all workers' compensation costs. And the number one cause of these accidents? Slippery floors.
Common Causes of Slippery Floors
There are many reasons floors can get slippery, but there are a few main culprits:
1. Moisture.
2. Grease.
3. Dust or talcum powder.
4. Too much floor polish or wax.
5. Soap residue.
6. Chemicals for cleaning and/or polishing that are not compatible with your floor type.
How to Get Rid of Slippery Floors
Keep your employees and customers safe with proper maintenance and cleaning techniques. Here are some of the most highly recommended ways to get rid of slippery floors:
1. Keep Floors Dry at All Times
Wipe away the slightest sign of moisture on your floors at once. A wet spot or sweating on the floor (due to humidity) is just an accident waiting to happen.
2. Use a Degreasing Agent in Typically Oily Areas
Certain areas, like the kitchen and garage floors, are more exposed to oil than others. For these surfaces, simple mopping with water and/or a dry mop won't suffice. Find a degreasing agent that is compatible with your floor type.
3. Use the Right Kind of Cleaner and Polish
The wrong kind of chemicals could cause a buildup of slippery film on flooring. Make sure that the cleaners and polishes you use are made for the exact type of floor you have. Tip: Use the agent on a small portion of your floors in the exact way you would use it for the rest of the floor area and test the surface to see if it is slippery.
4. Clean Floors Thoroughly
Residues of moisture, wax, grease, soap, talcum powder, and dust can all contribute to a slippery floor. Clean surfaces thoroughly to make sure the floors are rid of these.
5. Always Use a Dry Mop After Cleaning and Polishing
Grease, soap, and moisture may cling to your mops. Reusing the same mop after cleaning causes a layer of grease, soap, and moisture to form. This, in turn, causes the floors to become slippery. After cleaning your floors, make sure you use a separate dry mop for a final clean. And make sure to clean your mops properly to remove any residue that may have clung to them.
6. Invest in the Right Kind of Matting for Multiple Areas of Your Workspace
Different mats are designed for different areas. Make sure you have matting coverage throughout your establishment to prevent slips and falls in your business space.
Mats That Deal with Slippery Floors
To maximize protection against slip and fall accidents in your business, invest in the right kinds of mats:
Entrance Mats.

 These are your first line of defense against moisture tracked in by shoes. Place them at your main entry point.

Scraper Mats.

Scraper mats are more abrasive than entrance mats and scrape off debris trapped under shoes. They prevent mud and dust from contaminating your floors.

Anti-Slip Mats.

 These mats are reinforced with better traction and are best placed in areas where you anticipate moisture and grease, such as kitchen floors and restrooms.
Get the Right Kind of Mats from SPARKLE Uniform & Linen Service!
Does it sound too complicated? Don't worry – we'll take the guesswork out of your hands! Our floor care experts here at SPARKLE can help you find the best mats for your flooring. Leave us a message or give us a call at 800-646-1130 and we'll help keep your floors clean, safe, and accident-free!