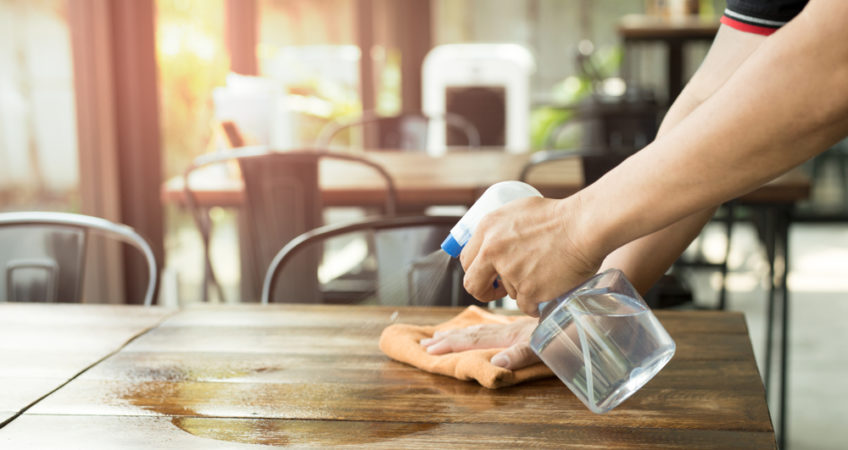 Without a solid organizational system, chances are your facility is going to fall apart. 
Employees go throughout their day-to-day, stumbling along with their heads in the clouds and trying to keep track of all the to-do's stacking up. While every person functions differently in what works for them to increase their productivity, imagine a workplace where everyone knows what they're supposed to do and when.
Even if your employees are fairly solid on their responsibilities, one thing that might often end up in the backburners of their minds is cleaning the business space. Papers quickly stack up, grime starts becoming clearly visible, the toilets are in desperate need of a clean, and both your employees and customers are suffering from a lack of clean spaces.
This may completely throw you off because you do in fact get the space cleaned – you may even believe you get it cleaned frequently. But think about it – is it on a weekly basis? Once a day? Once a month? Whatever the answer is, it's probably not enough. You should be maintaining your business space all day, every day. And luckily for you, we've narrowed down some simple cleaning ideas to make cleaning part of your company culture.

1. Scatter your cleaning checklists throughout different points in the day
This includes a cleaning to-do list for the beginning of the day, one for the end of the day, and a list of 10-minute or fewer tasks that can be done when periods free up throughout the day.
2. Have backup systems in place in case people are unable to fulfill their cleaning duties.
Make certain cleaning tasks repeat across your lists (such as putting a night task like cleaning the toilets also on your morning task list).
3. Spread out tasks between employees so that cleaning does not interfere with productivity.
An example for a restaurant would be: after guests get up to leave, there should be an employee ready right away to clean up the table and put on new, clean linens as the individual at the front begins checking in a new guest. This is opposed to having the host or hostess check in the diner and clean the table in front of them before they sit to eat.
4. Make plans for monthly and weekly tasks so that they can be completed on a per-day basis
Assign certain tasks (such as mopping the floors) on specific days and make sure the individual who is responsible for the task is aware what day it needs to be completed on (through either a calendar, email, or to-do list app).
5. Check your business space for cleanliness before opening or before beginning work each day.
Request that all employees do daily walkthroughs and collectively make sure the space is clean.
6. If you work in an office, consider using emails to your advantage by setting up reminder emails to staff.
For example, if you clean out the office fridge once a month, an email reminder will help employees remember what day and time they'll need to take their stuff out so it doesn't get tossed.
7. If applicable, provide a satisfaction survey.
This will help to keep track of how your customers feel about your business. You can also include questions about the atmosphere so anything that maybe slipped through the cracks when developing your cleaning checklist is brought to your attention.
8. Hire a professional uniform, mat and facility service provider.
One major cleaning task that all businesses deal with is keeping track of, cleaning and restocking either their linens, uniforms, floor mats, or restroom supplies. This time-consuming task is unnecessary when you can work with a quality service provider like Sparkle.
Cleanliness is essential to the productivity of your business, the safety and health of your employees and customers, and ultimately your business' bottom line. At Sparkle, we understand how integral cleaning is to your business, which is why we only provide quality medical and hospitality linens, uniforms, mats and facility services that help you get the job done.
Your business deserves the same quality care that you provide for your staff and clients. For that care and more cleaning ideas when it comes to your medical or hospitality linens, uniforms, mats and more, all you have to do right now is get in touch with us.