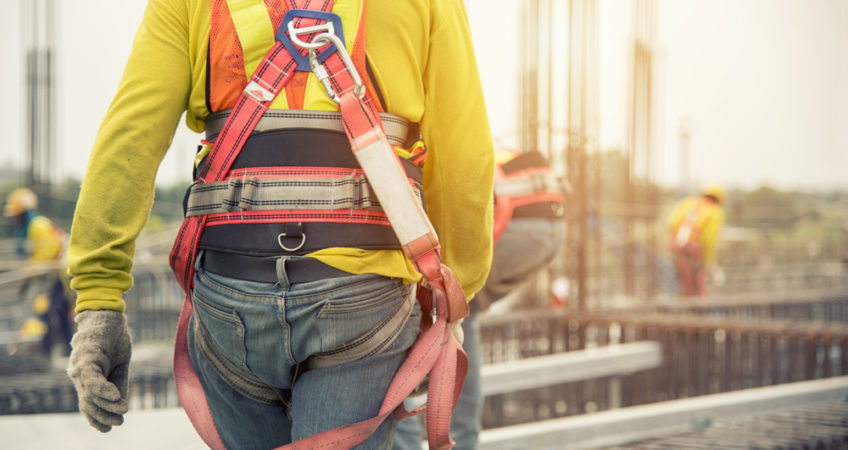 Here at Sparkle, the safety of our employees and customers is our number one priority.
We know that, at your facility, you care just as much as we do about ensuring safety and reducing injury in the workplace.
We've been in the uniform and linen industry since 1949, so trust us when we say we've seen it all! That's why we follow the Occupational Safety and Health Administration's (OSHA) guidelines as closely as possible as well as provide products that meet industry standards to avoid preventable injuries. There are a lot of safety hazards that are more common than you might think!
We've broken down the OSHA's most frequently cited standards. Here they are, what they mean, and how you can prevent them in your business today:
1. Falls
Falls on the job are some of the most common injuries you and your staff may encounter at work. Because they are so common, it's difficult to avoid them all together. That's why it's one of the OSHA's most frequently cited standards.
So what does the OSHA recommend? One of the most important things an employer can do to reduce falls on the job is to educate their staff. Make sure they are trained to recognize the hazards of falling and know the correct procedures their specific job entails, such as knowing how and where to properly handle and store equipment.
Additionally, the employer needs to make sure any walking or working surfaces an employee may encounter are strong and structurally intact. There should be guard rails if there are any tall, unprotected sides or edges 6 feet or higher above the ground.
Protecting yourself and your employees from falls is important and should be taken seriously. According to the National Floor Safety Institute, slip and falls account for over 1 million hospital emergency room visits a year. Reduce the number of falls in your facility by being aware of any possible fall hazards, making sure your employees stay educated and alert, and installing floor mats in high-risk areas of your facility.
2. Hazardous Materials
Another commonly-cited OSHA standard is the use of hazardous materials. If your business houses anything hazardous that could cause injury (chemicals, dirt, electricity, fire, etc.), make sure to communicate with your employees effectively. There should be clear signage to signal where hazardous material is being handled or could be present.
Make sure your employees are protected when working with chemicals or anything airborne that could cause health problems. Provide your employees with face masks, eye protection, and respirators if necessary, as well as the correct protective uniforms. These items make a big difference when it comes to employee safety!
3. Machinery
Here at Sparkle, we work with large industrial machinery to efficiently clean and sort linens and uniforms. We understand that large machinery poses safety risks, and so does the OSHA. There should be machine guards where possible and special tools used to handle the material in the machines so no one has to reach their hands into a dangerous zone.
Make sure industrial trucks have been thoroughly inspected and meet all safety requirements before they are used. Taking the steps to get your large machinery and trucks inspected and cleared can help reduce injury and concerns for both you and your employees.
Safety is Sparkle's Number One Priority!
Sparkle understands that running a business can be difficult, but that keeping OSHA standards in mind is essential to ensuring the safety of the people you rely on: your employees. Educate them on the proper safety policies of your business, give them the right protective equipment, and inspect all industrial machinery to ensure they are safe to use.
Here at Sparkle, we're proud of our continued dedication to ensuring safety for everyone in our facility. After nearly 70 years of experience, we know our stuff!
We offer a wide range of linens and uniforms for a variety of industries, and would love to help you with your linen and uniform needs today. Less time focusing on a linen and uniform service means more time focusing on your employees and ensuring safety for all.
Let us make your job easier (and safer) today! Contact us for a quote at 800-646-1130.