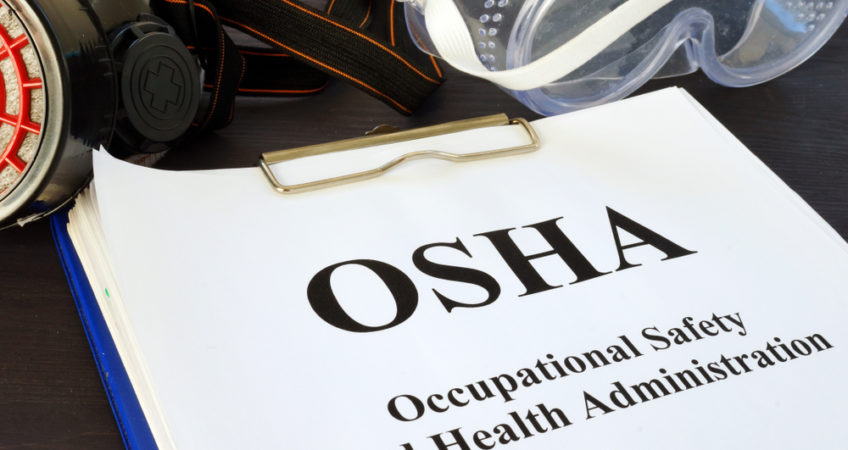 Keeping your business OSHA compliant can be difficult. With the rules and regulations that go into nearly every aspect of the business, applying them all correctly is challenging. Thankfully, keeping your business's uniforms and mats OSHA compliant is easier than it seems.
Keeping Uniforms in Line with OSHA Compliance
The uniforms that your employees wear while on the job depend on the job being done. The more hazardous elements that they're exposed to, the stricter the rules.
Here are some things to keep in mind when deciding which uniforms to provide employees: 
Uniform Materials Matter
Depending on the hazards present at the work site, particular clothing materials may be prohibited from use. For example, if arc flash or extreme heat is involved or is a possibility, acetate, nylon, polyester, and rayon fabrics are prohibited, unless made flame resistant. 
Clear, Understandable Guidelines Employees Follow
Even if you're not providing the safety wear to your employees, you're still accountable for their adherence to rules. OSHA's position on this arrangement is as follows:
"We recognize that employees typically provide part or all of their own work clothing. However, no matter who provides the clothing employees wear, the employer is responsible for ensuring that the flame resistance or flame-retardant-treated conditions of apparel worn by an employee who is exposed to the hazards of electric arcs or flames are maintained whether made from natural materials of appropriate weight or made from synthetic materials."
James W. Stanley
Deputy Assistant Secretary of OSHA 
August 10, 1995
Adjust Policies or Uniform Materials After Injuries
When something does go wrong, especially after an employee is injured on the job, OSHA will need to see that the proper adjustments have been made. Whether it's in the procedure or in the materials used to get the job done, there are four things an employee should demonstrate: 
Employer has based policy around reasonable estimates of the actual workplace electric arc and flame conditions.

That employer has selected appropriate clothing for exposure conditions.

Evidence has been presented to determine the best course of adjustment.

That reassessment and adjustment has taken place and been recorded.
OSHA Rules on Workplace Mats
When it comes to floor safety in the workplace, OSHA has many rules to consider. Just having nondescript floor matting for traction and safety might not be enough. 
Here are some specific guidelines to keep in mind: 
All walking surfaces in a business: passageways, storerooms, service rooms, must be clean, orderly, and sanitary. 

Walking surfaces are kept as dry as possible.

No dangers are present in walking surfaces (sharp, protruding objects, loose boards, leaks, spills, etc.) .

All walking surfaces are load-bearing. 

Entrance and exit points are safe and accessible. 

Regular inspections are carried out.

Hazardous conditions are corrected, repaired by qualified individuals, and documented. 
Having the right mats in the right place of your business could go a long way in protecting your employees. Not only do properly placed and maintained mats keep employees and customers safe, but they also protect you from liability. While mats alone will not make an environment categorically safe in OSHA's eyes, they are a strong argument that precautions have been taken. 
Contact Sparkle for Unquestionable Quality and Employee Protection 
While a uniform and linen provider can't protect your business from every OSHA regulation, it can ensure adherence to a lot of them. When a professional business linen and uniform supplier like Sparkle handles your uniform and mat service, it's one less thing to worry about. Let us know your uniform restrictions and mat needs, and we'll take care of the rest. 
To start, or to learn more, give us a call at (661) 634-1130 or ask about a quote for service.