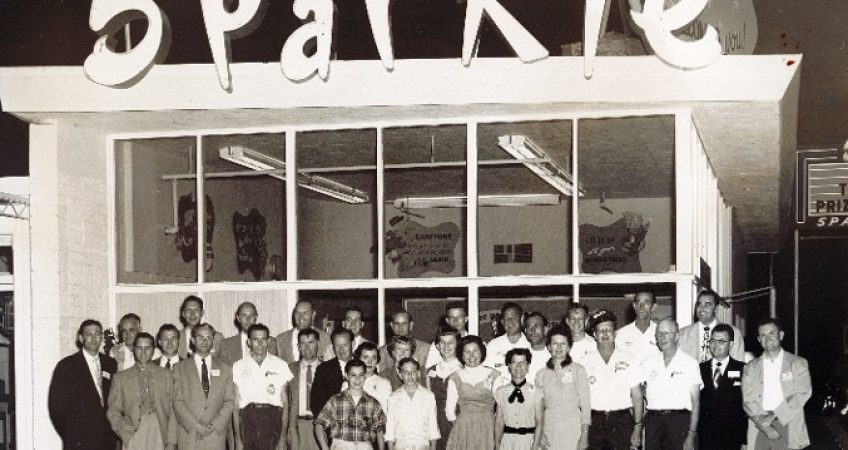 It seems only fitting that we start at the beginning and share a little history about how Sparkle was born in Kern County.
I won't go into every detail, but to fully appreciate where we are going, you have to first know where we came from. Sparkle was originally incorporated in Taft, CA back in 1949 by Richard K. "Stubby" Newman, Jr. There are many great stories about how Stubby started the business and how it grew over the years. Unfortunately, I was never able to meet the man as I came to Sparkle in 1999, shortly after Stubby had passed away.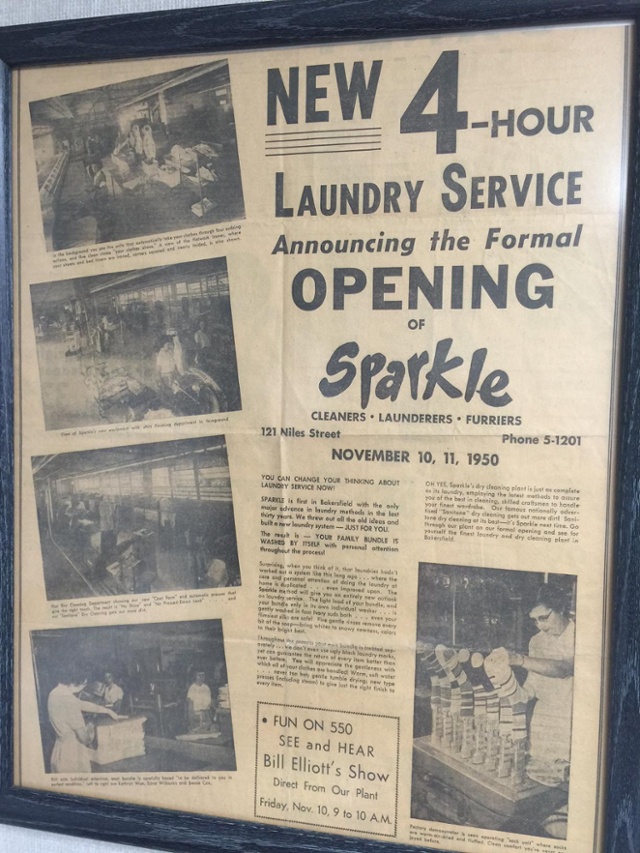 A newspaper article that hangs in my office reads "Grand opening of Sparkle Cleaners in Bakersfield". It announces the opening of the Bakersfield location at 121 Monterey Street and a scheduled live radio broadcast for that day, November 10th 1950 on am 550. This was before highway 178 was even built. Next to the newspaper article is a framed watercolor depiction of the original concept art for the Monterey location.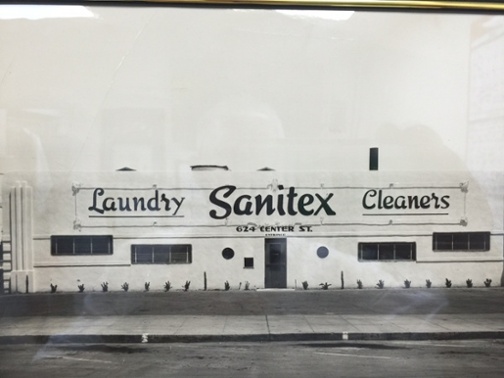 Sanitex (Sparkle) in Taft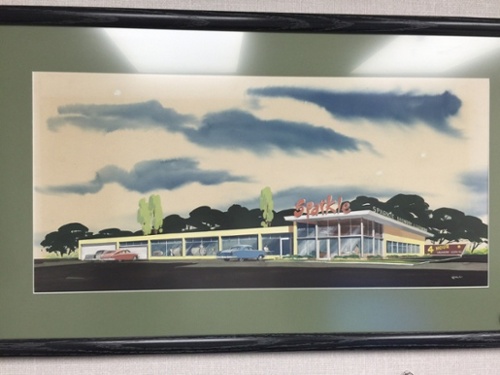 The original concept art for Sparkle (Water color)
In these days Sparkle was known for home laundry and dry cleaning services. Route representatives would pick up dirty laundry from households all around Bakersfield and the surrounding rural communities. The route reps would bring the dirty laundry to the Monterey plant for either laundering or dry cleaning services. Once the cleaning, pressing, folding and bundling of the family garments was complete, the assembled orders were delivered back to the homes and a new load of dirty goods was picked up for cleaning and the cycle repeated itself. Sparkle was a full service laundry handling all types of household goods; from curtains to dresses, suits and kid's clothes. Everything down to socks and diapers were brought in for cleaning. Sparkle was trusted to clean expensive fur coats and hold these valuable items of the day in the on-site fur vault. In 1959 Stubby pioneered the "Drive Thru" car hop service available at the Monterey street location. The company continued to expand with retail store fronts offering customers convenient nearby drop off service for their laundry and dry cleaning needs. At one-time Sparkle had a total of 18 stores in Kern County. Our slogan at the time was "We're everywhere".
 Stubby's son Jeff Newman Sr. took over the company in the late 1960's and in 1973 Sparkle entered into the linen & uniform rental business. The home delivery business was scaled back to grow this section of the Sparkle business. True story: The linen rental business began when local health care facility called Jeff Newman Sr. on a Saturday night in desperate need of a laundry service. The laundry in the basement of the hospital had broken down and the hospital needed the bed sheets, towels, pillow cases, blankets, curtains, etc. cleaned immediately. Jeff saw the opportunity to partner with the hospital and sprang into action. This was no small amount of laundry either. The hospital's laundry needs exceeded 10,000 pounds of dirty laundry every week! This venture allowed Sparkle to branch out to other customers that needed rental services for uniforms, linens, mops, mats, and other items.  By 1980, Sparkle had 4 full time rental routes.
 Today, Sparkle Uniform & Linen Rental services roughly 1000 customers in the greater Bakersfield area and the surrounding communities. We continue to grow in the uniform and linen rental services we started nearly 43 years ago. Sparkle will celebrate its 67th year in business this November.
 Stay tuned for the next post where I share a little bit about the birth of our sister company Today Cleaners.