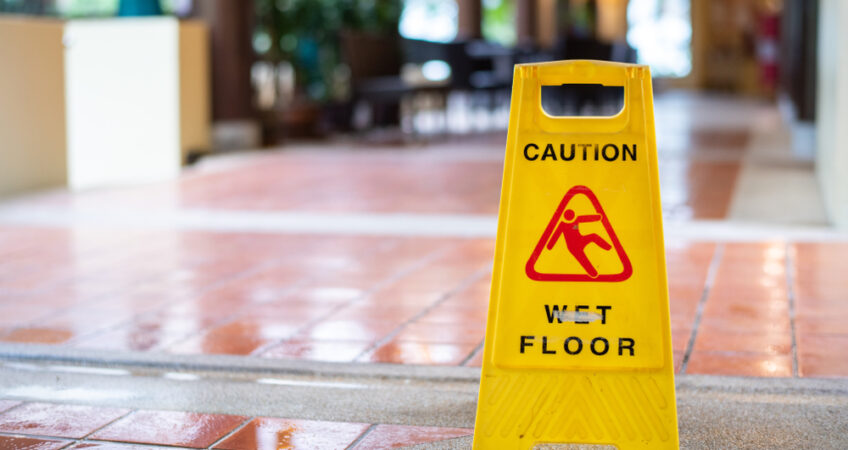 Slippery floors are dangerous to your business, and lasting slippery floor solutions are rare! Floors prone to slipping are dangerous to your business and are caused by many things! The danger slippery floors present to employees, customers, and the whole business is hard to overstate. 
Slippery floors can cause anything from light injuries to life-threatening ones. In fact, slip and fall accidents are responsible for up to 700 workplace fatalities every year.
Slippery Floor Solutions That Work
There are many reasons why floors become slippery. Contrary to popular belief, wetness is not the only reason why floors lose traction, although it remains among the most common. Dust and grains, especially on smooth floors (i.e., tiles) can be slipping hazards as well. Other times, the nature of the floors themselves, and the kind of environment they are exposed to can cause them to be less safe.
No matter the reason, it is important to deal with it and fast! Here are some ways to combat slippery floors:
Use Non-Skid Additives to Add Traction to Flooring
Ideally, you should replace your flooring if it proves to be too slippery. If that is not possible, a good way to alleviate this issue is through the use of anti-skid additives. There are many DIY products you can use, but there are also items more readily available in the market.
Keep Your Floors Dry and Clean at All Times
Keeping your facility clean is one of the most important ways of keeping your floors safe. Make sure that your floors are dry and free from grease. Liquids and grease are amongst the top culprits for slippery floors. Make sure to keep floors dry using the right floor mops. Keeping your business dust-free is also important. A heavy accumulation of dust can cause floors to become slippery so make sure to keep it off your floors. 
Use High-Quality Non-Slip Floor Mats
The simple addition of floor mats can also help fortify your facility's protection against slip and fall accidents. Just having floor mats, however, is not enough. It is just as important to have the right type of floor mat in the right location. For instance, keeping mud, moisture, and excess dust at bay starts by securing your entryways. You can achieve this with the right scraper and brush mats. Anti-slip mats and restroom mats, on the other hand, are your best solution for wet areas.
Floor Care Solutions
Sparkle is all about complete solutions for your floor safety needs. That is why we do more than just rent out floor mats for your daily operations. Our service also comes with professional, high-grade mop and mat maintenance service. This is more than just a matter of convenience.
Proper mat and mop maintenance ensure that your floor care solutions are always conditioned to perform at their best at all times. Your items are also inspected to make sure they have not lost their best qualities. This matters especially with your floor mats. Poor maintenance has a negative effect on mat traction. Our expert inspectors make sure that all the mats delivered to you are as safe and as effective as they were the first time you got them.
Sparkle Has Your Floors Covered
Sign up for floor care solutions service from Sparkle today! Call us at (661) 634-1130 or fill out this form for inquiries and price quote requests.