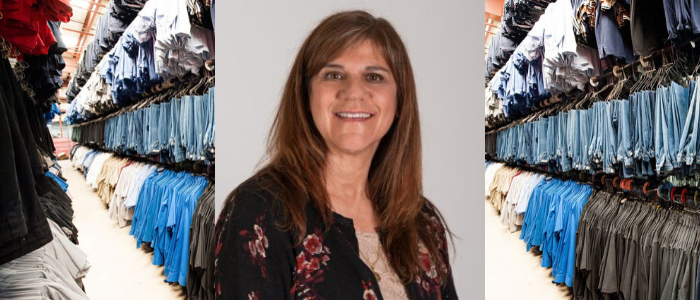 Get an inside look into Sparkle's operations with this in-depth interview featuring Angie Kobliska, Sales Associate at Sparkle Uniform and Linen Service.
What is your position at Sparkle and how long have you been with the company?
"I am a sales associate, and I've been with the company close to three years."
How has Sparkle grown since you started working there?
"Since I've been here, I feel like Sparkle's grown exponentially. First of all, I'm one of the only female sales reps out in the market. I think they may have had one female sales rep many years ago, but it's not as prevalent in this market. I came from a sales background of over 30 years." 
"One of the things that I'm most proud of is getting a catalog made for the first time. I told them it was difficult to go around and sell things from my vendor catalog with little sticky notes. So, they created their first ever catalog, which I felt I played a part in doing."
"We started participating in local events like the Downtown Christmas Parade, which [Sparkle] had never done before. We got a lot of publicity from that. But also, from inside, they remodeled the whole place and updated everything. Not only that, but business has grown. I think last year, between the other salesmen and I, we had the most sales that they ever had in the history of Sparkle."
"I've tried to implement some things on the sales side which have helped. Like, with organization – just forms that needed to be filled out that makes it easy for us to do our jobs quickly and more efficiently. We've incorporated a couple of those things that help the salesmen and the company keep accountable for everything from the sales standpoint all the way through to the install."
"If I make a sale, I want to make sure that the whole process goes exactly correct, including a month after they've been installed. It is still my responsibility to make sure. I follow up with the customers to make sure things are still going well. That's something I've done throughout my career as a salesperson."
What is your favorite thing about working at Sparkle?
"I like the freedom and flexibility to call on any account that I think has promise. I'm not being held down or micromanaged. I'm free to do what I need to do to be successful. I really appreciate that, coming from another job where they micromanaged every minute of every day. They do not do that here. The thing that's nice about that is that you really want to do a good job for [Sparkle]." 
"I came from corporate. Here, I walked in and everyone was laid back and laughing. This is what a family business is run like. I don't have to walk on eggshells, and I can relax and do my job. I can go to them, especially Tim (Director of Sales and Service), with any questions or concerns, and he gets right back to me within an hour."
As a Sales Associate, you speak with customers daily. What are some of the common challenges they face with their linen and uniform needs?
"I would say, the first one is a contract and always trying to peel back the layers to find out if they are unhappy with [their current provider]. I try to reassure them, but then I have to get down to the nitty gritty and find out if they have a contract and when it expires."
"I have worked tirelessly on an account where they have told me that they are not in a contract and, I was down to getting ready to sign the contract, when they were told that they auto-renewed without knowing it. So, they were actually in a contract for 3 more years. Some of these companies have auto-renewal, and [the customers] have been unpleasantly surprised. That's the biggest challenge."
How does Sparkle address those problems?
"If [the customers] are having major issues, I walk them through steps to try to get out of a contract. I don't give legal advice, but I tell them to start documenting any issues, star taking pictures of any issues, and start sending emails with any issues. Some [corporate] companies will let them out of a contract. At Sparkle, we are the only local place in town. We have to make people happy because we're from Bakersfield, we work for Bakersfield, all of our employees come from Bakersfield, and all the money stays in Bakersfield."
"I always make it a point to let my customers know that we have to go the extra mile that [other providers] don't because if they lose you, they pick up another corporate account. We don't have that opportunity, so we try to retain as many customers as possible. I think Sparkle's retention rate is 97% or 98%."
Why do you think people should choose Sparkle over other linen and uniform service companies?
"First and foremost, we are the only local place in town. Next year we're celebrating 70 years, and it's a huge milestone. We wouldn't be in business this long if we weren't doing things correctly. Now, the 4th generation is starting to work here. We have a technological advantage because we do things with the RFID chip. The chip is installed on each of our uniform pieces so every uniform is scanned when it enters our annex, and is scanned 3 or 4 more times in the process. We never have lost uniforms. Our customers seem to enjoy that. Our phone app for repairs is huge too. Customers who switched to us, complained that their uniforms were never repaired. It's all done technologically here."
"You can talk to someone immediately in our office. We can think outside the box. Those are all big reasons I think people like using Sparkle. The fact that we do linen and uniforms also appeals to a lot of people." 
If you could describe Sparkle in one word, what would it be?
"Reliable."
What do you want people to know about Sparkle?
"We are not going anywhere. We are going to continue to grow and capture different markets that we haven't been able to capture in the past. We plan on continuing to grow, expand, and employee more people in the Bakersfield area.We aren't going to shy away from innovation. We have a good salesforce too!"
"We don't ship our stuff out. Corporate accounts have trucks that drive from LA to Fresno with everyones' dirty clothes in them. They wash them down there in huge industrial washers. Ours is local and centralized. People lose things in their uniforms like wallets, watches, and money. One of my very first accounts I signed up told me that a gentleman had left his wallet in one of his uniform pant pockets (when they were with a corporate provider). He called the driver and the driver was like, "It's too late. It's already gone!"."
"We've gotten a call where someone left an expensive watch in an apron pocket. As soon as we [got the call], we were able to distinguish where the load was. We were able to track it down and return it. That's why you use local people. We care."