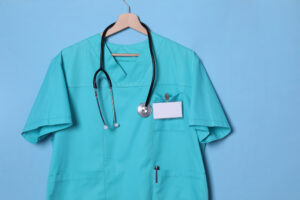 Medical uniforms are an instrumental part of any hospital. Those built with quality in mind are the difference between success or failure for healthcare workers. SPARKLE helps your staff be ready for anything by making sure their garments are too.
SPARKLE Medical Uniforms Are the Best of the Best
We provide only the best garments for healthcare workers because they deserve more than they're getting. Medical uniforms from SPARKLE:
Keep It Clean
Clean environments are paramount to success in healthcare facilities. Dirty medical uniforms pose a variety of risks to your patient. Therefore, SPARKLE's uniforms avoid complications by controlling foreign contaminants and isolating patients from them. We keep our uniforms as clean and effective as they were the day they were purchased with our heavy-duty commercial laundry program and garment tracking technology. 
Put Patients At Ease
Calm, level-headed patients are important for successful healthcare procedures. SPARKLE's medical uniforms provide the trust and context is the best way to keep them that way. Healthcare apparel lets patients know who they're talking to and what to expect. Patients know they are dealing with a professional when they see the cleanliness that comes from SPARKLE's washing process. 
Improve Performance
Medical uniforms that are designed right will help healthcare workers do their jobs well. SPARKLE designs its products to be practical, durable, and comfortable which drastically improves the performance of its wearers. Another performance aspect to consider is the psychological effect it has on your staff. They are much less likely to doubt their own abilities or their place in their profession if they are wearing a uniform that reminds them of their importance and function. 
Contact SPARKLE Today!
When it comes to medical uniform service, SPARKLE is your best choice because we understand there's more at work than cleanliness. Reach us today by phone at (661) 634-1130 or direct your inquiries here for a free quote.